Union Minister of State for Information and Broadcasting Dr L Murugan today inaugurated the India Pavilion at Cannes at Marché du Film in presence of Shri Jawed Ashraf, Ambassador of India to France, Shri Prithul Kumar, Joint Secretary, MIB and stars of the Indian film industry.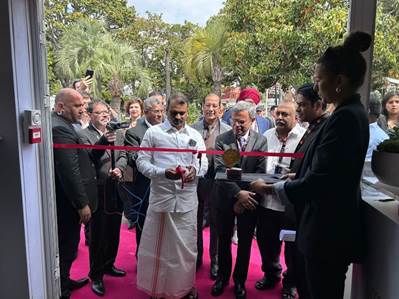 Addressing a gathering of delegates from India including film stars and officials, Dr Murugan stated that today India is the world's largest producer of films with over 3000 films in over 50 languages. These films carry a message of India's strength in storytelling across the world.
Citing the example of the now famed Elephant Whisperers of Mudumalai, the Minister highlighted that today good content knows no boundaries and we are witnessing an era where Indian content is going local to global.
Dr Murugan recalled the recent stellar success of Indian movies and movie makers at world stage and added that today it's difficult to find a movie without an Indian name in its credits for animation or VFX. He further said that Indian film industry has undergone significant changes in recent years with advent of newer technologies and rise of digital and streaming platforms.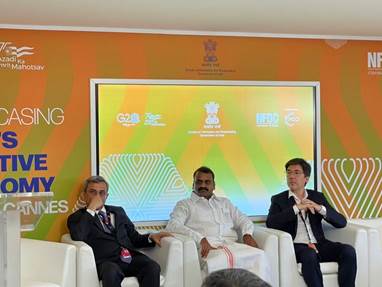 The Minister stated that Indian Media and Entertainment sector is poised to experience an extraordinary growth rate of 11.4% in 2023, propelling its revenue to a staggering INR 2.36 trillion. This remarkable surge is a testament to the robustness of India's M&E industry and its potential to create novel opportunities, even in a rapidly evolving digital landscape. He further added that after the Covid pandemic, the gross box office revenues of 2022 in India, have increased almost three times the revenues of 2021 to 1.3 billion USD, and expected to touch 3 billion USD by 2025.
Speaking about the measures taken by the Ministry towards strengthening the film ecosystem in India, Dr Murugan said that a slew of initiatives through Digital India, Start Up India, rural telecom connectivity, policy reforms creating positive environment for data affordability and availability are creating a robust foundation of a Creative Economy. "Our technological forte of the IT sector merged with the rich talent pool of artists, makes India the best suited for serving as the Content Creator for the global Cinema. Our government had set up a task force for the promotion of this sector. A National Centre of Excellence for AVGC is also in pipeline", he added.
Dr Murugan pitched India as an attractive movie destination for foreign films and said that the Government is committed to develop India as a magnet for international movie industry including shooting, co-production, animation and low-cost post-production.
The Minister expressed hope that after announcements of film incentives by Union Minister Shri Anurag Thakur last year at Cannes, India's promising presence in Cannes 2023 will take this momentum further. As India prepares to host the G20 summit, he said that "we are placing a special emphasis on the significance of Culture & Tourism. We aim to leverage the power of media and entertainment to position culture as a driving force for inclusive, sustainable socio-economic recovery and development, paving the way for a brighter future for all. One Earth -One family – One Future is the sure way forward".
Minister Shri Anurag Thakur addressing the gathering through a video message. In his message, the Minister remarked that 'Festival de Cannes' has played an instrumental role in not just promoting our cinematic excellence but also strengthening the Indo-French relations.
He emphasized that for the first time this year, we have sent an official delegation of talented filmmakers from the North Eastern states of India to the Cannes Film Festival. The idea, he said, was to bring to Cannes the depth and diversity of India's rich cinematic culture while we recognize and promote regional diversity in filmmaking back home. He informed the audience that National Film Archive of India has digitalised the negatives of 'Ishanou,' the Manipuri Language film, selected in the Cannes Classic Section this year.
Shri Thakur further said that with 3 films shortlisted in 3 distinct categories and 2 of them bringing home Oscars – the world has just scratched the surface of the creativity, content and technical capabilities of the Indian Film Industry. With powerful narratives, high-end skill-based content curation and post-production capabilities and co-production treaties with 16 countries, India has emerged as an attractive destination for filmmakers worldwide, he added.
Earlier, Shri Jawed Ashraf, Ambassador of India to France, in his address to the gathering called for a bigger, more organised presence at Cannes and other festivals, and for a more aggressive approach to promote Indian films. A larger presence, he added, will do justice to the scale and strength of Indian cinema.
Mr. Guillaume Esmiol, Executive Director, Marche du Film at Cannes Film Festival said that India was an important country for the global film industry by way of being a strong market and with its scale of movie industry.
The event also witnessed the unveiling of the poster and trailer for 54th Indian Film Festival of India to be organized in Goa in November, 2023.